Villa Layout
The three-tiered Villa Atacaya is entered on its top level via an open-sided living and dining room that lies adjacent to a self-contained kitchen. On the middle tier is a pretty garden courtyard with an outdoor dining area and covered lounge flanked by a bar and a small, air-conditioned TV room. The courtyard is bordered by a 15-metre pool overlooking the river, and four of the five bedrooms are also housed on this level. From here, a spiral staircase winds down to a riverside yoga deck, a balé, and the studio bedroom.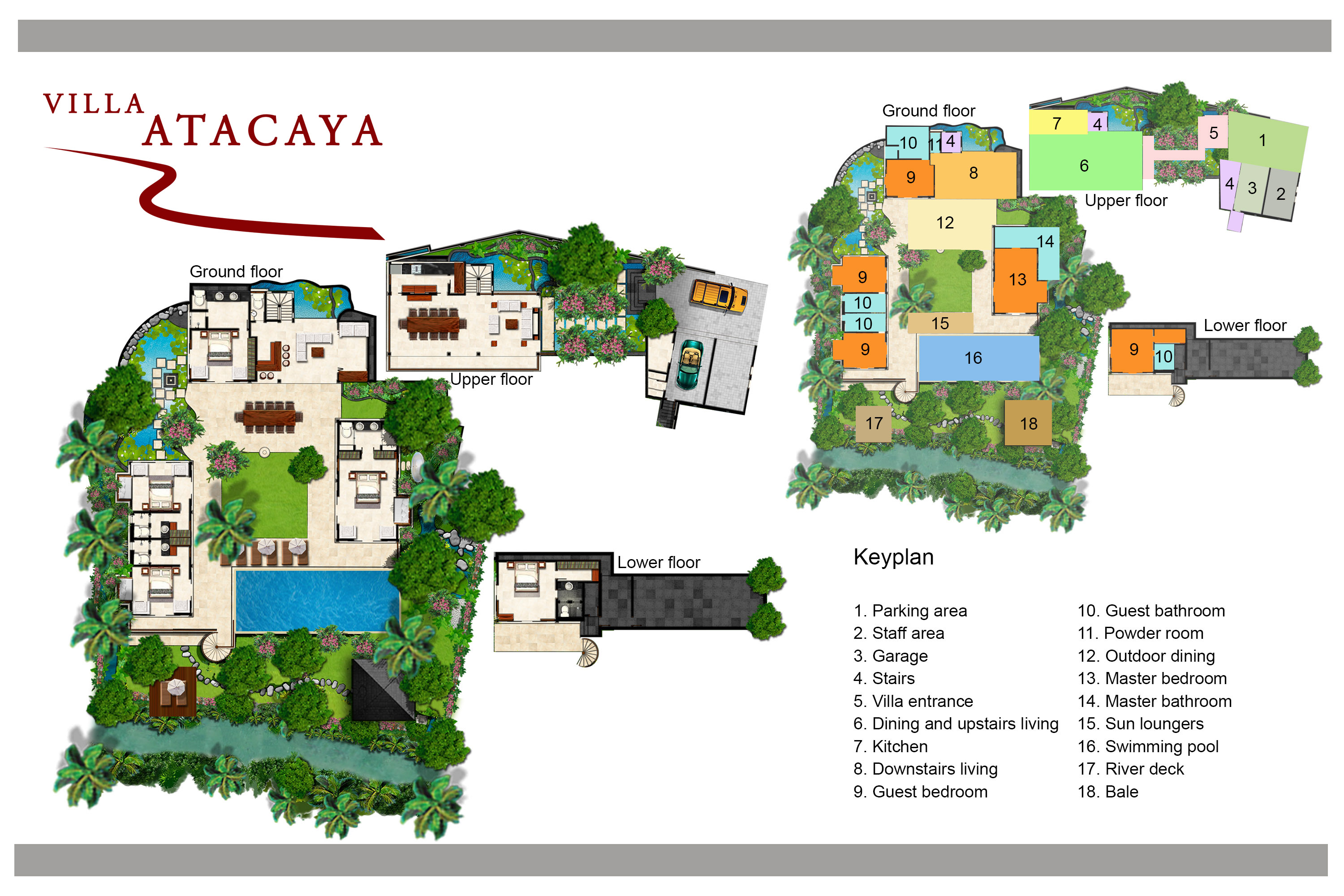 Download in high resolution
Living Areas
Atacaya's main living and dining room is on the villa's uppermost tier, flanked by a water garden and a rock wall festooned with orchids and tree ferns. This room also provides guests with their first glimpse of the beautiful river valley view. With open sides and a lofty alang-alang thatched roof, this fan-cooled space offers a semi-indoor dining option with a table for 12 conveniently situated next to a self-contained kitchen, and a small sitting area to one side of the dining table.
Down at ground level is a covered, open-air sitting space with a bar at one end and an air-conditioned TV room at the other. Wide sliding doors to the TV room can be opened onto the sitting area to create one big sociable space. Outside in the garden, a glass-topped table set upon white marble paving stones, provides dining for 12 under the stars. As night falls, staff light a firebowl at the edge of the lawn, which throws dancing shadows around the courtyard.
At the far side of the garden courtyard, the 15-metre swimming pool appears to overflow into the river valley. As you cool off at the pool's edge you might just see the iridescent blue flash of a kingfisher as it swoops over the water.
A spiral staircase winds down to a riverside deck. This is the perfect place to practice yoga or meditate to the murmur of the river. Also on this level is a bale relaxation pavilion – just the spot for a massage.
Bedrooms
Master
The king-bedded, orange-hued master bedroom is large and airy, with soaring wood ceilings.  It is furnished with a daybed that can be used as a bed for a child.  Two sets of sliding glass doors lead out to the pool and the garden courtyard with its jungle views.  Colourful carved Balinese doors open to a private water garden where a huge river-rock bathtub rests under the sky alongside a rushing creek fed by a holy spring.
Guest bedroom I

Themed in a deep red, this ground floor room, with its king-size bed and ensuite bathroom, opens out onto the pool terrace. What gives this room its edge is its access to a pond fed by a holy spring and backed by a plant-strewn wall, which creates the magical feel of a forest stream.
Guest bedrooms II and III
These two bedrooms are almost identical, with hardwood floors, king-size beds, daybeds suitable for a kid and ensuite bathrooms that exude class and comfort.  Where they differ is in their colour schemes and their views.  One room is themed in blue and looks out to the grotto-like holy pond, while the second is aquamarine-themed with a delightful window seat and a stunning river and jungle view from the bed.  Both are accessed from the pool terrace.
Studio room
Resting riverside, directly below guest bedroom three, this yellow-themed room is the most private of all and arguably has the best view. Glass doors at the front open out to a waterside garden overlooking the river and the towering trees on its far bank.